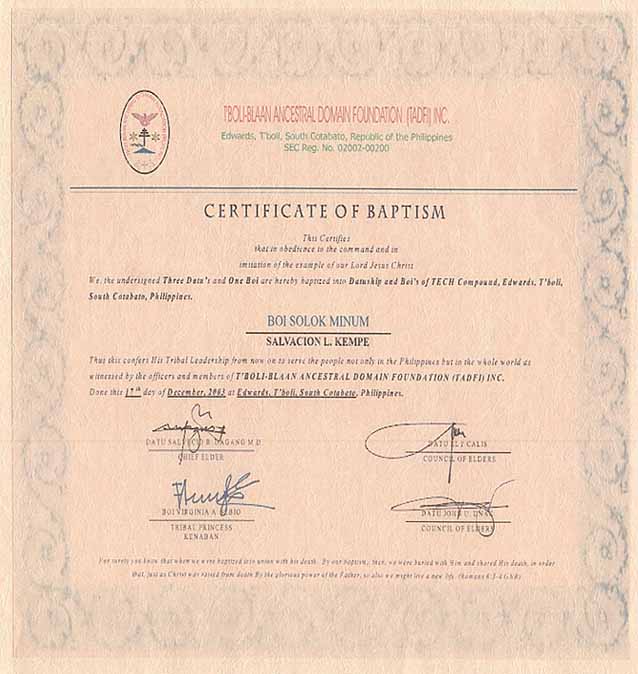 CERTIFICATE OF BAPTISM & ADOPTION
As Boi Solok Minum  which means "Queen of Light"
Given by the T'boli and B'laan Tribes of General Santos City,
Province of Lanao del Norte
December 17, 2003
Isaiah 42:6
"I, the Lord, have called you in righteousness: I will take hold of your hand. I will keep you and I will make you to be the covenant for the people and the light of the Gentiles, to open the eyes that are blind, to free captives from prison and to release from the Dungeon those who seek in darkness
The First Letter of John: 1:8;  However, the command I now  write you is new, because its truth is seen in Christ and also in you.  For the darkness is passing away, and the real light is already shinning!
ADOPTION LETTER
From T'boli-B'laan Ancestral Domain Foundation, Inc.
QUEEN OF LIGHT
Forwarded to the National Commission on Indigenous Peoples Central Office
January 27, 2004
Isaiah 42 5-9;
God created the Heavens' and the stretch them out; He fashioned the earth and all that lives there; He gave life and breath to all its people.  And now, the Lord God says to His servant, "I, the Lord, have called you and given you power to see that justice is done on earth.  Through you I will make a covenant with all peoples; Through you I will bring light to the nations.  You will open the eyes of the blind and set free those who sit in dark prison.  I alone Am the Lord your God.  No other God may share my glory; I will not let idols share my praise.  The things I predicted have now come true.  Now, I will tell you of new things even before they begin to happen".